With Stride™ Custom Braces, it allows us to take customization to the next level. Unlike traditional orthodontics, Stride™ Custom Braces are tailored to your unique anatomy, ensuring a faster and more efficient treatment process. Our digital scanning technology creates a detailed map of your teeth, enabling precise bracket selection and placement. This personalized approach results in shorter treatment times, fewer appointments, and exceptional results that you'll love.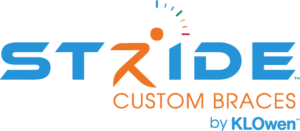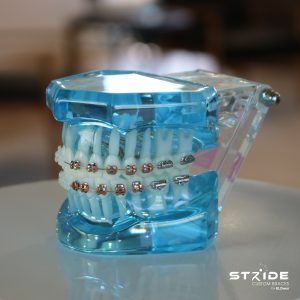 More Time Doing What You Love
We know your schedule is full, and we respect your time. That's why we take pride in offering superior custom treatment that allows you greater control over your calendar, allowing you more time to do the things you want to do.
Non-custom orthodontics gives you a one-size-fits-all approach to treatment, requiring multiple "lay-over" appointments for bracket -repositioning and wire- bending. You'll get there, but it takes longer.
Preliminary studies have shown these digital custom braces can shorten your treatment time by 40% with less frequent visits (10-12 weeks apart) compared to the traditional non-custom braces (6-8 weeks apart).
Stride™ Braces vs Traditional Braces
With traditional orthodontics you get a one-size-fits-all approach to treatment. It works, but it requires more adjustments by your orthodontist throughout your time in braces. That means more orthodontic appointments and more time in braces. But with Stride™ Custom Brackets, your treatment is customized to your unique anatomy, so you get to your new smile faster than ever.
The process starts with a digital scan of your teeth – no goopy impressions required! The scan creates a topographical map of your unique anatomy which your doctor uses to select the ideal bracket and placement for each tooth. This customized approach means less time in braces, less time away from school or work, and more time loving your new smile.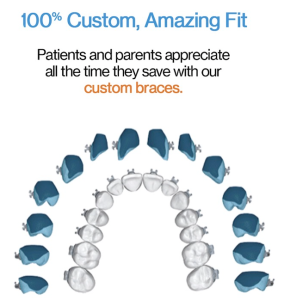 Take the direct flight
With Stride™ Custom Braces and our powerful software, your treatment is completely custom. It's like taking the most direct route, non-stop, to your new smile.